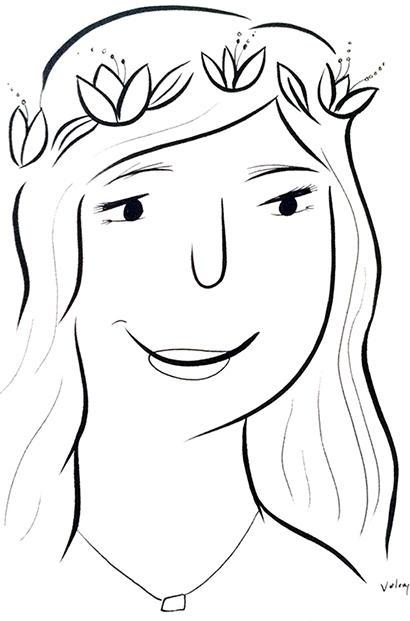 If you've been following me for a while, you'll know that I love unique wedding ideas and I love design (obviously!). Naturally, I'm excited to share this sweet local business with you: 5 Minute Face is an illustration booth for edmonton couples at their weddings, where guests can sit for 5 minutes and walk away with a creative and unique memento. Not only does it serve as fun and unique entertainment for your wedding, especially during cocktail hour, but the finished illustrations can double as a very special favour that your guests can take away from your wedding. (This is my portrait from my wedding <3)
The 5 Minute Face booth is owned and operated by Valéry Goulet, the owner of valérydesignwrks, a small multidisciplinary design studio in Edmonton. After years as an illustrator, and a few seasons showcasing her work at the Royal Bison Art and Craft Fair, Valéry devised a way to turn her vendor booth into something that was both creative and interactive: the 5 Minute Face booth was born.
The booth is set up on a small table, where Valéry sits on one side and her subject sits facing her, with a divider in between them. There is an 8" x 10" window, so they can see each other, but the subject can't see the drawing in progress. Once the portrait is completed, she slides the print through a slot at the bottom of the booth.
Here's a little bit more about Valéry, her love of illustration, and how you can incorporate her unique work at your wedding.
What interests you about illustration?
With illustration, I find every aspect of it interesting. I teach two illustration classes in both design programs at the U of A and Grant MacEwan. I go over a wide range of techniques and processes with my students. With this specific project (illustrative booth), what I find the most interesting is how everyone is truly unique and beautiful. This illustrative exercise impacted the way I see people and also the way I approach other illustration based project. Forcing me to illustrate without the ability to erase and refine is quite stressful and I love it.
How do people usually react when they receive their illustration?
Every time, I get a nice smile and a thank you. People are curious to know how they are perceived, I think, and it seems to please them to see my drawings.
What are some other ways that couples can incorporate your illustrations in their wedding?
There is a wide range of applications for couples to incorporate my illustrative work. I would be happy to provide them with illustrations in colour or black and white for their wedding invitations, thank you cards and any other collateral pieces. Illustrations can be printed and also engraved so it gives us a ton of options to choose from.
Where can people find the 5 Minute Face booth in action (when it's not at a wedding)?
I mostly do private functions so it is quite hard to find my booth at a public event. However, once or twice a year, they might be able to find me at the Royal Bison Art and Craft Fair.
Share and Enjoy